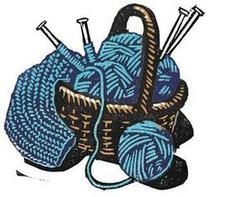 "We will wrap you in love
and surround you with our prayers."
That describes the feelings of those who meet on Wednesday evenings to make shawls, lap robes and even a baby bonnet or so.
Our group meets at 5:00 p.m., but people arrive when they can. We sit in a circle and knit and crochet and chat. We offer a prayer at about 6:00 p.m. when it seems that all who are coming have arrived.
At 6:30 p.m., the meal is ready and some stay, some leave; and some who stay knit while listening to the choir rehearse.
When an item is finished, we tie it up with yarn and eventually present it to someone in a life changing situation to remind them of God's love and the support of the church family.
Please join us! If you don't knit or crochet, someone will teach you, and if you don't care to learn we welcome your company and conversation.